Term 1, Week 9, 2020
From the Dean of Learning ELC-6
Learner Agency in the Junior School
Wendy Abernethy - Dean of Learning E-6
One of the great joys of working in the Junior School is the day to day authentic and purposeful collaboration between members of staff. Staff are active, involved learners alongside the students. Gone are the days where each classroom is its own island, a place where only those inside know about the workings of the environment, a place where the teacher is isolated from colleagues and separated from the rest of the school, and a place where student experiences are disconnected from their full journey through the school. The intricate interplay of the people, resources and environments within a school directly influence teacher and student agency.
Have you downloaded the Tara Parent App?

Did you know that you can receive important notifications, view sports information, book events, advise the school of student absences and complete permission notes via the Tara Parent App?
Downloading the Tara Parent App is easy! Stay connected with all the news and events of Tara.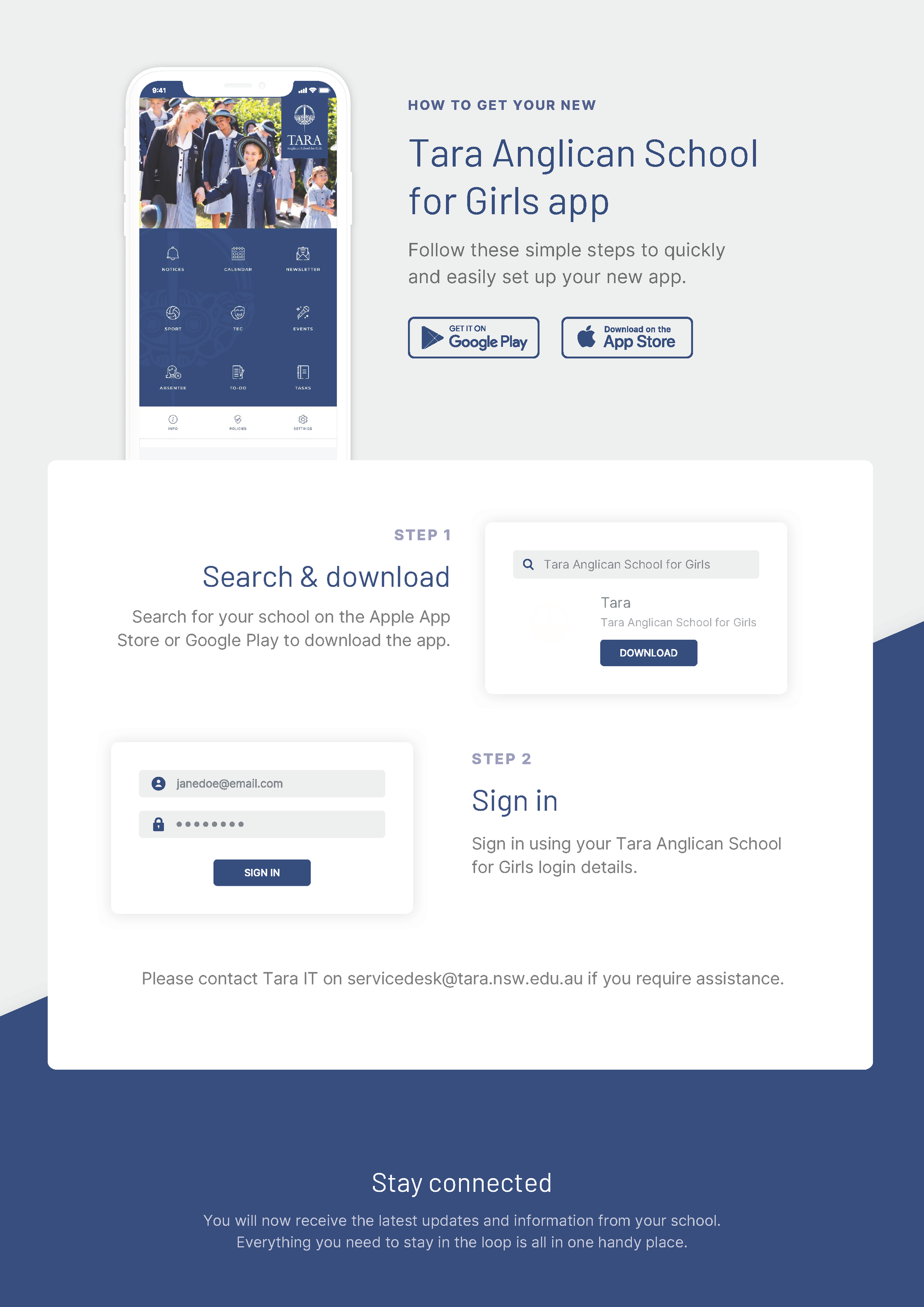 Download on the App Store here
This month on SchoolTV - Screen Time
As a result of the global pandemic, there has been a noticeable shift in the amount of time people spend on screen-based devices. Families are transitioning back to pre-COVID routines but many are still struggling to re-establish the boundaries and rules around screen use. Some continue to deal with digital conflict and tech-tantrums on a daily basis. The latest research found that 77% of teenagers spend more than five hours on screens per day, but it is important to note that not all screen time is considered equal.
1-12 Night Junior School
Chloe T - Year 6 Student
This Year's 1-12 Night was an enjoyable and entertaining experience for everybody that went. The evening had many fun options, including dancing, playing games, and taking photos with friends in the photo booth. Walking in and seeing everyone's unique costumes was one of the most exciting moments of the night. The music was great, and everybody danced away wherever they wanted, whether it was on the stage, floor or even in lines. The song selection was a wonderful playlist to dance to and it screamed 'Time Warp'.
1 - 12 Night Senior School
Brianna L- Year 11 Student
This year's 1-12 Night was themed Time Warp. It was a fun-filled night full of music and laughter. Entering through the fantastical time machine, we were taken to a land of no time and all time. A delicious popcorn and fairy floss machine awaited us, along with an incredible photo booth that printed out your very own Time Warp photos. Admittedly, I frequented it many times. There were cold drinks and some delicious nachos for dinner. It was great to see not only all the Tara girls in their amazing costumes but also all of our amazing teachers dressed up too.
Aquatic Centre and Sports Precinct Tile - Extended
Due to high demand we have extended the closing date for purchasing an Aquatic Centre and Sports Precinct tile.
Tiles can now be purchased up until 13 May 2022 with artwork due 16 May 2022.
To order your tile click on the link below.
Order a Aquatic Centre and Sports Precinct Tile
Tara Dad's Colour Run Festival
Tara Dad's Colour Run Festival
When:21 May, 2022
Where: Tara Anglican School for Girls (Mouleric Oval)
Time: 2pm until 5pm
Come and enjoy a walk or run with your friends and family for a fun filled day of colour where you will be sprayed with non toxic coloured powder at selected colour stations.
Included in the cost is the Coloured Powder, BBQ lunch, fairy floss, popcorn and Mr Whippy ice cream
Adults 18+ $25 per person
Child 3 to 15 years $20 per person
Infant 0-2 years FREE
Don't forget to wear your white T Shirt.
To book go into: www.tara.nsw.edu.au
RSVP: 15 May, 2022
Sheen Family Prize - Performer of the Year 2022
IPSHA Cross Country Carnival
Following their strong performances at the school carnival, 18 girls represented our school at the IPSHA Cross Country Carnival. Originally postponed at the end of Term 1 due to the significant rainfall we have experienced, conditions were near perfect this time around at The Kings School. The course needed to be altered from previous years and it proved to be a more difficult course than originally planned. The team's effort is to be commended and they should be proud of their achievements, all having successfully finished the gruelling 2km and 3km courses, and nearly all with a smile on their red face!
Trigonometry - Year 9
Amélie P, Daria M and Zara S - Year 9
When you hear the term trigonometry, what do you think of? Triangles, or maybe like us when we first heard it, you blanked. When our Year 9 Maths class began a new unit at the end of Term 1, none of us was sure what trigonometry was. Even after a short class discussion and some internet research, we still didn't really know what it was. So, our teachers came up with a practical approach to understand what we were doing. We began measuring right-angled triangles and figuring out the ratios between the sides and angles. After doing this for a while, we began an intriguing and challenging project.
In small groups, we used raw spaghetti, blu-tack, and cardboard to build spaghetti roof trusses measuring the angles, calculating the lengths, and seeing how best to make a stable structure. In doing this, we learnt about the many ways we could build our roof trusses and still allow them to be steady as well as the relationships between the triangles.
We learned more about triangles and angles. Before we started on this project, we drew 6 right-angled with different heights and angles and found out about the ratios between the sides. We had to select one of the triangles that would be effective for our structures. It was important to choose one that would allow our roof trusses to stay in place because if we built our structures with small angles and heights, the small lengths of pasta could easily break, and the structures wouldn't be stable.
We found diverse ways we could add extra support to all the triangles we made. They could be at different angles and there could be multiple of them to make the trusses stable. Drawing different sized triangles allowed us to learn which ones would work for the making of our structures and creating them allowed us to find out the number of supports we needed and choose the different angles we could put them on.
From this project, we learned trigonometry fundamentals and how the different triangles could be used to create a stable structure.
Year 11 Economics and Women in Economics
On Friday 29 April, Year 11 Economics had the privilege of meeting with two female economists. Dr Sarah Hunter, partner of KPMG, and Shumi Ruan, a recent graduate from the University of Sydney, shared insights on the 2022 Federal Budget as well as their experiences in their careers as economists.
"The webinar provided an engaging and insightful opportunity to learn about this year's Federal Budget and the role of women in economics. We discussed a wide range of topics such as the impact of the growing debt, whether enough was being done about climate change, the implications of an election-driven budget, as well as their own personal experiences." (Mylan D)
"We were able to hear directly from women working in the field of economics. We learnt about various topics such as whether the federal budget is favourable for future generations, gender discrimination in economics and potential career paths in economics. It was an insightful experience, as we were able to learn a lot about the role economics plays in the real world." (Enya R)
"The webinar really opened my eyes to the intersection between economics, world politics, and women – and I think the insights they brought to the table were invaluable in furthering our studies of economics past our regular class lessons. I'm definitely grateful that Dr Sarah Hunter and Shumi Ruan were able lend us their unique insights into such a fascinating subject." (Nina X)
"It was an insightful experience hearing from Dr. Sarah Hunter and Shumi Ruan whose careers and living was based on Economics! I was really interested on the different perspectives each speaker had about the 2022 Federal Budget and their careers as women. They also made me become open-minded on Economics is implied to everyday life and ways to my future career." (Mary G)
Year 11 Play – Debra Oswald's 'Stories in the Dark'
Anika P (Year 11)
Stories in the Dark combines the reality of life in countries that are living in war, with the hope that people need to be able to live through the day. The story follows 12 year old Thomas and 16 year old Anna, played by Lara E and Evelyn D, as they live together in a war-torn country. To escape from the reality of their lives, Anna begins to tell stories, and so begins their adventure of ogres, princes, and singing bones.
Debating Update
Jessica S - Debating Prefect
Congratulations to the Tara 7A, 8A, 8B and Senior A teams for reaching the final rounds of the Friday Evening Debating competition. Best of luck to all teams.
The 2022 IGSA Archdale Debating Competition also commences on Tuesday May 17. It has been wonderful to see the return of face to face debates.
Congratulations also to Anika C in Year 7 who entered the Kids Wonder Talk Competition, which is similar to a TED Talk. Anika achieved 3rd place and is a finalist. There were over 120 entries. Her speech is about 'sensicle', a portmanteau word, innovatively formed by using the words 'sensible' and 'vehicle.'
Student Leadership Team for 2022/2023
At the end of Term 2 Senior School will be voting for Tara's Year 12 Leadership Team for 2022/2023.
Year 11 students have already started the process and will nominate what positions they would like to fill in coming weeks. We conduct the voting in Term 2 so our new student leaders from Year 11 can shadow the existing Leadership Team throughout Term 3. This provides an opportunity for our Year 12 students to guide, teach and help the new team as they set their own vision for their leadership term.
Voting starts in Week 9, Term 2 during Activities.
More details to follow.
Please contact Mrs Losco with any questions.
Share the Dignity
Afraah S - Year 10 SRC
As an all girls school, Tara believes in the importance of girls supporting girls.
The Share the Dignity Easter drive, run by Year 10 SRC is a testament to that fact. This organisation cooperates with schools and over 6000 volunteers to receive menstrual products to distribute to women and girls unable to afford them due to homelessness, domestic violence, and/or financial struggles. Period poverty is a pressing issue in Australia as 1 in 5 women currently cannot access or do not have the funds to purchase these types of products. The students of Tara recognised and empathised with this issue and were able to accumulate 550 products across the Senior School over the course of two weeks. As a team we overcame many conflicts, however prevailed in organising a successful drive, through teamwork and the MYP traits.
These products will be distributed to women facing period poverty around Australia, from Broken Hill to the Northern Territory. This initiative, led by the Year 10 SRC with the assistance of other student representatives and teachers, has created a positive impact in our surrounding community and will benefit the lives of many!
Tara Tigers Update
- Emily DT, Liaison Prefect
The Tara Tiger Team is now in their second term and have attended numerous events, aiming to cheer on and support their peers. As a team we have attended Friday Night Debating, the Year 9-10 Music Concert, and the Year 11 Play. The team is commended on their continued dedication to encouraging girls in all years and have been a positive addition. Our next event is the Colour Run on the 21st of May which is expected to be extremely successful. We are excited for all upcoming events and thank you to all the girls in the team.
Tara Tutors
Nara B- Academic Prefect
An exciting new initiative that is being introduced at Tara is the Tara Tutors Program. It is a student-led mentoring system where students from Year 11 and 12 volunteer to be tutors for younger grades. There are tutors from a range of subjects, including maths and science, arts and languages and humanities. All students can bring in homework, assessments, or any other questions to discuss with their tutors. It is a great way to help each other and connect with students from other grades!
Tara Tutors will be running from 3:30pm-4:30pm on Thursday Week A and Monday Week B in the Tara Senior School Library (Claridge 8).
We look forward to seeing you there!
Year 11/12 Business Studies UTS Guest Speaker
On Wednesday 4 May, Year 11 and 12 students studying Business Studies had the pleasure of hearing from Emily, a second-year university student currently completing Australia's most successful co-op course – The University of Technology Sydney Bachelor of Accounting.
Term 1 Tennis Round 8
Georgia M (Tennis Captain)
Due to the rain all season, IGSA organised Round 8 matches so that the girls could play some more matches. Tara teams played excellently, ending the season on a high note! Congratulations and thank you to all the Tara tennis players this year for your efforts and achievements in both trainings and weekend matches. A further congratulations to Year 12 students who played for Tara for the last time - Lucia Z, Cherie G, Michelle W, and Georgia M.
Sydney Girls Regatta
Over the weekend, despite the huge amounts of rain, the rowers competed in their last regatta before Head of the River and came out with 1 first, 5 seconds, and 5 third places.
The year 10 four with Jemma, Mackenzie, Caitlin, Charlotte and their cox, Holly competed in two races, coming second in the schoolgirl four race, then later coming first in their year 10 race. The year 8 doubles with Hannah, Gemma, Leila and Mareya both came third in their respective races. Malaika in her single scull came second. Emma placed second in her single and Sally, and Holly came second in their year nine double! Finishing off the day, the year 8 quad with Olivia, Mareya, Leila, Amy and Malaika came second.
Good luck to all the rowers who are competing at the final regatta in this schoolgirl season. We have worked hard to get this far, and I can't wait to see how you all go!
IGSA Diving
Congratulations to Ruby D for winning the Open Platform and the age springboard at the IGSA carnival. She will progress to CIS in both these events.
IGSA Representative Teams
IGSA Basketball Team
Congratulations to Abbey V on being selected in the IGSA basketball team
IGSA Touch Team
Congratulations to Cameron K on being selected in the IGSA Touch team
IGSA Swimming Report
On 25th March, Tara's Swimming Team had the opportunity to represent the school at the annual IGSA Swimming Carnival held at the Sydney Olympic Park Aquatic Centre. The Tara Swim Team consisted of 23 girls who were participating in both individual and relay races. The IGSA Swimming Carnival is a major event which brings competition among the different member schools with the girls loudly cheering and screaming for their teams. The grandstand was filled with numerous banners, pom poms and bursts of colour as all eyes were focused on which team would touch the wall first. Without a doubt Tara performed outstandingly, with a few girls managing to make it into the finals in individual events.
Junior Head of River
The final regatta for the junior rowers was held over the weekend. Whilst it was very different to normal, it was still a very successful day. To start off the day, Arushi and Siena in year 9 placed second in their double, getting the first medal of the day!. Olivia, Mareya, Leila, Amy and their cox Amelia placed third in their heat, and managed to place sixth in their final which was full of very strong crews. Hannah and Gemma placed third in their double also getting a medal! To finish off the day, Holly, Sally, Shirley, Orchid and their cox Amelia placed 5th in their heat, but also managed to get a fantastic time.
Congratulations to all the junior girls who have raced this season. It has been tough for everyone, yet very rewarding to see all the achievements that have emerged across the grades. I hope everyone enjoyed it as much as I did!
Careers Newsletters - JobJump
Mrs Michelle Williams - Careers Coordinator
Parents are encouraged read the Careers Newsletters and information on careers and courses on Canvas Careers page.
Congratulations to all Year 10's for a very successful Work Experience!! We are very proud of you.
Careers Newsletter - 28 April 2022
Careers Newsletter - 5 May 2022
For more information please contact Mrs Michelle Williams via email.